Let's play ball! Grab some cracker jacks, a Ghirardelli Sundae, an order of garlic fries, and a Cha Cha Bowl because the 2014 MLB season has officially started and with a big bang! With a splash walk-off homerun, grand slam by a pitcher, spectacular fireworks show, almost inside-the-park-HR by the White Shark, you would think I was talking about a whole season of highlights, however these are just the highlights of opening week!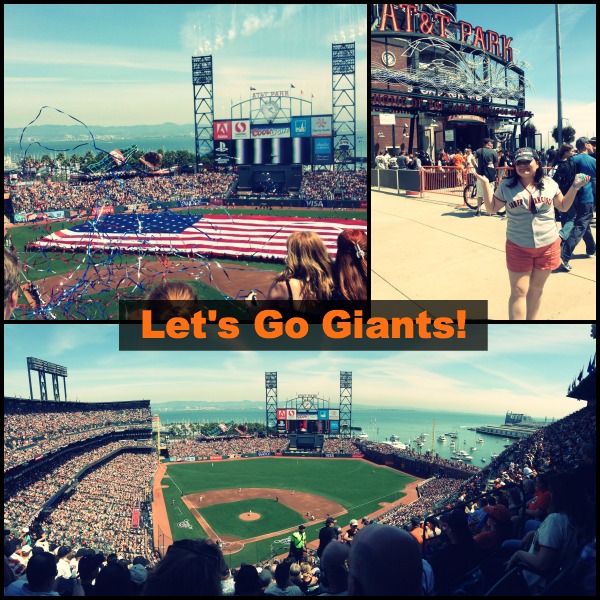 The boys in orange and black have shown great enthusiasm and one can only imagine what the rest of the season will be like! If you are not a season ticket holder, but want to go to a few games with some fun giveaways, here are a couple of my favorite ones:

Sat, Apr 26 1954 Replica World Series Ring
Sat, Jun 7 Sergio Romo Super Hero Socks
Sun, Jun 8 Hello Kitty ® Giants Plush
Sun, Jun 15 Giants Father's Day Necktie
Sat, Jun 28 Brandon Belt or Brandon Crawford Bobblehead
Sun, Jul 13 Angel Pagan Bobblehead
Sat, Aug 16 Virgin America 2-for-1 Flight Voucher
Sun, Aug 31 Star Wars Day - R2D2 Beanie
But most importantly, going to the baseball game is not just watching men in uniform hit a ball, it's more of an experience, which I feel can even be compared to a day in Disneyland. Once a year, The Giants put together an awesome experienced-filled day, where you can purchase tickets for the game, and separately pay $800 to have a family of 4 sleep on the field. All of us Giants' fans would love to camp out in on the field of dreams, but not all of us have a grand to spend. So, if you want to save some money but still have an amazingly memorable baseball experience from sun up to sun down, boy do I have the best secret in the world to share… are you ready?
So, you have a special birthday coming up, a girls night out? Or maybe you want to give Dad the best Father's Day gift ever, and you don't have $800 extra to spend to have a sleepover on the field, well no need to fear, Personality is here! Did you know that there is a hotel, that is about a 20 minute flat walk away from the ballpark, and only steps away from the Powell Bart Station, that has a room designated for a baseball fan? Yep, it's true, Personality Hotels has designed a Dugout Suite at Hotel Union Square with orange walls, Giants memorabilia and was god fathered by the MVP and Cy Young winner - Mr. Vida Blue himself! So why not purchase the tickets, bring over the pup, and the parents, and go to the game while staying in this amazing king sized bed junior suite that is dog friendly? Oh, and if that's not enough, get ready to throw on some Art of Shaving product before heading out to cheer on the Giants.
Dream come true, you know it, because we do nothing but dream for you!