Crystal Kong, founder and style blogger at Cryskay, stayed at Hotel Union Square during her first stop in San Francisco as part of her national ice cream tour. As busy as she was during her indulgent days, we caught a moment to speak with her about her experience as an LA fashion blogger and learn more about what inspired this uniquely tasty trip. Enjoy our first of many guest spotlight Q&A's!

the Marketing Babes
MB: How long have you been blogging on Cryskay? How did you start?
CK: I used to have an online journal before it was considered "blogging" and always knew I wanted to get back into it. Three years ago, as a New Years Resolution, I started Cryskay and have stuck with it ever since. It's become my creative outlet and a way for me to archive my personal style.
MB: What inspired your Ice Cream campaign?
CK: My crazy obsession and addiction to ice cream. A friend and I came across the "Best Ice Cream Shops in the US" lists from the Thrillist and Food & Wine and decided that we needed to visit them all. Being that one of the things on my bucket list is to visit all 50 states by age 50, it gave me all the more reason to do this. Neither one of us thought the idea would come to fruition, but slowly & surely it did and now we're here!
MB: What ice cream stores are you planning to hit up/did you hit up while in SF?
CK: There's Bi-Rite Creamery and Humphry Slocombe in the city, as well as Ici Ice Cream in Berkeley and Three Twins Ice Cream in San Rafael.
MB: What's your favorite ice cream place and flavor here in SF?
CK: Hands down, Honey Lavender & Salted Caramel at Bi-Rite. I have dreams about it.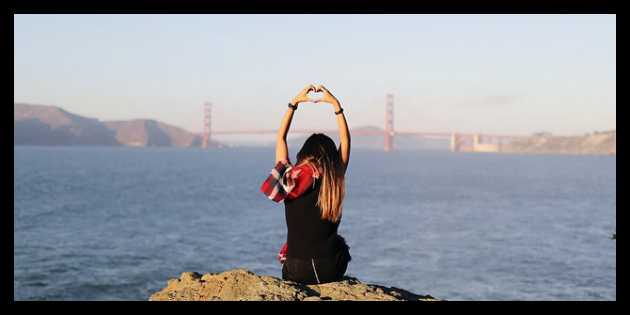 MB: Where else are you going on your trip and where are you most excited to go?
CK: The trip takes us up the west coast to Seattle, over to Yellowstone National Park, back down to Phoenix, across the south through New Mexico, Texas, Louisiana, Nashville, up to Boston and ending in New York City. I think I'm most excited about Yellowstone for the scenery and Nashville because it's a city that I've fallen madly, deeply in love with over the years.
MB: What's your idea of the perfect first date ice cream outing outfit in San Francisco?! Which ice cream spot would you go to for this particular occasion?
CK: When in San Francisco, I like dressing in layers because you never know when Karl the Fog will make an appearance. Also, I'm always about comfort so I would probably be wearing jeans (or shorts), a tee, leather jacket and boots. The date would start out at Bi-Rite (but of course). I like picking up the pints there (you get the cut the line) and eating it on the lawn at Dolores Park.
MB: Which ice cream place and flavor has the most Personality in SF?
CK: Again, Bi-Rite Creamery... I'm telling you, I'm obsessed with it! The most personality award would go to their Ricaenelas flavor. It's original, unlike anything I've ever had before - smooth in texture with small chunks of snicker doodle and hints of cinnamon.
Craving more? Read Top 5 Union Square Sweet Treats!