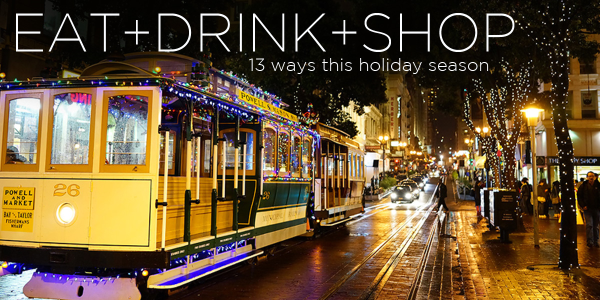 Happy Holidays! We're so excited to share our 2013 holiday package with you! Every year we put together something special for our guests visiting during the holiday season and this one might be our favorite one yet!
In honor of the lucky year 2013, our exclusive EAT+DRINK+SHOP package includes 13 different perks at various shops, restaurants, and bars redeemable in festive Union Square.
Stocking stuffed with great deals and exclusive discounts from bars, restaurants and retailers such as Tradition, Mikkeller, Farallon, Nespresso, Macy's, Ghirardelli and more!
$25 Westfield Gift Card and VIP Passport
Late Check-out
Reusable Tote Bag
Bottle of Lucky 13 wine made exclusively for Personality Hotels
Available at Hotel Diva, Kensington Park and Hotel Union Square through January 31st, 2014.