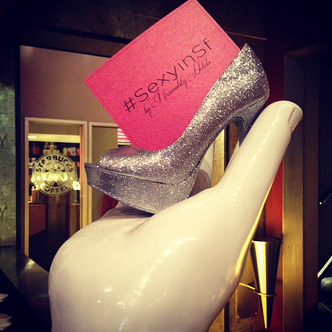 We are not your atypical hotel in San Francisco and far from conventional, so naturally, our events aren't either. This past Wednesday the 12th, Hotel Diva teamed up with Minna Life to bring "Sexy in SF". Inspired by the century old concept of a bachelorette party, without the excuse of a bride to be, Sexy in SF was a night full of fun with lingerie shopping, cocktails, and burlesque dancers!
Good Vibrations' sexologist, Carol Queen, taught many how to express their inner diva while others touched base with their inner goddess. Local brands such as St. Germain showcased zealous sweet liqueur for tasting. While PinkBerry and Cako brought beams to those with sweet tooth's.
Oh and we cannot forget the Red Hot Burlesque dancers who put together a performance that made everyone hoot and holler all night long. With La Trappe Beer and Wine by Gary Finch quenched all the men's taste buds and Lashfully beautifying all the ravishing ladies there was a place for everyone! Along with eyelash extensions ladies had the opportunity to receive free sample products from Melvita – French organic make up products.
Boudoir by Lily offered free photo sessions with sensual masks, and disguises with instant printed copies. Next door to Boudir was Pink Bunny with various accessories and toys on display to purchase. BossaNova brought delicious Brasilian outdoor barbequing, together with Little Black Dress Vodka, spiced up the aroma with flavorful, low-calorie cocktail drinks for all. Dozens of rhinestone-studded blindfolds exhibited on white duvets by were a hit!
This was a night where we all danced the night away and made some wonderful memories! Sexy in SF was a night full of sophisticated entertainment, fun and company for all. Maybe we should make this a annual tradtion?
Like us Facebook to see the professional pictures taken at the event.