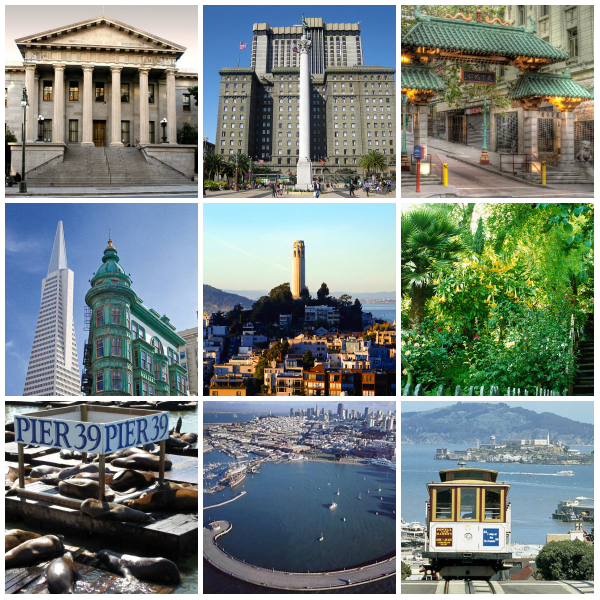 Is it your first time in San Francisco or you have been here several times and you want to do something different? Are you a history aficionado and really want to know San Francisco's past? Personality Hotels has the solution for you, follow the Barbary Coast Trail and learn more about what and who made this vibrant and iconic city .
The Gold Rush is what changed San Francisco's destiny. In 1846 a small village of 400 hundered pioneers settled in Yerba Buena, which had just become part of the United States. Eventually word got out that Gold was being found and just 3 short years later in 1849, 700 ships sailed around Cape Horn and over 200,000 people rushed in from all over the world. This is what started the city's transformation. San Francisco became a place full of hopes, dreams, violence, betrayals and bigger than life characters. By the end of 1849 San Francisco's population had risen to 25,000 and the city would soon become an iconic destination.
Today San Francisco is mostly known for its Victorian Houses, its Crookedest Street and the beautiful Golden Gate Bridge, but if you pay attention and look carefully, you can still find traces of early San Francisco. The traces that depict a city made of treasure hunters, fortune makers and real adventurers. If you want to follow their footsteps, you must take the Barbary Coast Trail.
In 1998 historian Daniel Bacon in collaboration with the San Francisco Museum and Historical Society founded the Barbary Coast Trail. Like being on a treasure hunt, follow the 180 bronze medallions embedded in the pavement along this 3.8miles trail (some of them are right next our dear Hotel Union Square). For those who start thinking that this might be a little to much walking, half of it can be done on a Cable car and most of the trail's path is flat.
No more excuses, let's discover San Francisco!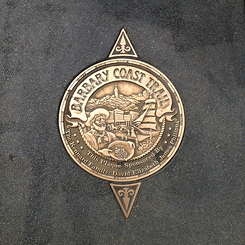 Where is the Trail going to take you?
Start by the Old Mint on 5th street, a national historic landmark; walk through Union Square and Maiden Lane; in Chinatown take a look at Old St. Mary's, the first Catholic cathedral West of the Rockies and T'ien Hou temple, the first Asian temple in North America; then in the Financial District visit the Wells Fargo History Museum and pass by the Pony Express Headquarters site. In the Jackson Square Historical District you can see the last lot of Gold Rush and Barbary Coast-era buildings in San Francisco: as the Old Ship Saloon, once a shanghaiing den.
Further on the trail go up Coit Tower and finally take a nice stroll on Fisherman's Wharf all the way to SF Maritime National Historical Park which maintains a large collection of historic ships and last but not least, Ghirardelli Square for a well deserved ice cream or hot chocolate!
To go back to your starting point take the Hyde-Powell Cable Car line which is the only moving historical landmark in the world.
Now that you are excited to go on this adventure; what are your options?
If you're staying with Personality Hotels, make sure to talk to our very knowledgeable concierges, who will be more than happy to help you coordinate this adventure.
If you are more independent, you can go to the Tourist Information Center where you can buy the trail map and do the tour on your own.
Or if you really want to get the whole story and are fond of history I would recommend organizing a tour with the Barbary Coast Trail company. They have audio guides as well as real guides who can take you on the trail and tell you everything there is to know about San Francisco's history.
If you did not get enough of the Barbary Coast feel, finish your visit of San Francisco by the Conservatory of Flowers in Golden Gate Park to see the Boomtown Barbary Coast exhibition until April 14th. There you will learn more about the plants that used to grow at the time, in San Francicso.
Don't forget your walking shoes and have fun.