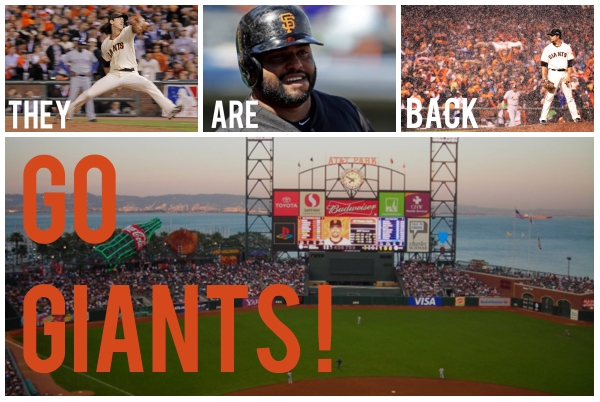 Foggy, windy, rainy, and cold- neverless a beautiful day in San Francisco! Why you might ask- well it is OPENING day for our World Series defending Champs, the San Francisco Giants!
This is no April fools prank, the long awaited date for all Giants' fans has finally arrived. Yes, San Francisco was a little spoiled this off season, being that we were able to host the World Baseball Classic Finals, and cheer on a couple of our players, like Pagan, Torres, Panda, Affeldt, Vogelsong, Romo, Scuataro, LaTorre, Mijares, Casilla and coach Meulens, but still these past months, we have all been eager to see our boys back on the field. Everyone is eager to cheer on perfect games, like the one from Matt Cain, awesome catches from Gregor Blanco, the cheering and mentoring of Hunter Pence, the photobombs of Sergio Romo, those lifetime scenes like the one left forever in our hearts from Marco Scutaro, and the talent and good looks of George Kontos, what can I say, our boys are full of Giant Personalities!
With the extension of general manager Brian Sabean and manager Bruce Bochy, as well as the return of our lovable Andres Torres, and the good news that we will have nine seasons full of Posey, the Giants have made all fans enthusiastic to begin their 2013 journey with the boys.
So why not get the party started?
The Giants will face off the LA Dodgers today at Dodger Stadium at 1:10pm, but no need to worry if you can't fly out to LA within the next ten minutes. If you're in San Francisco today, the Giants will be showing the game, on the big HD scoreboard at AT&T Park, free of charge, and hurry, for the first 5,000 fans will receive a free hot dog, and foam fists! However if it's to late to call in sick, you definitely have some time to ask your boss for an early dismissal for the opening game in San Francisco, this Friday, April 5th, when the Giants take on the Cardinals. Now, with dynamic pricing, it might be a bit difficult to catch some games without leaving your wallet empty, so here are some fun promotion games you might want to save up for:
April 6th, for a Buster Posey NL MVP Bobblehead,

April 7th, for a Giants World Series Ring Ceremony Replica

May 5th for a Sergio Romo Gnome

May 26th for a Barry Zito Bobblehead

June 22nd for a Ryan Vogelsong Bobblehead

August 10th for Virgin America 2 for 1 Flight Vouchers

August 25th for Tim Lincecum Gnome and Dog days of Summer.
Or, you can always watch a game from the Burger Bar at Macys on Union Square, or Jillian's in the Metreon.
And if you want to keep the spirit going all night long, spend the night in our Dugout Suite in Hotel Union Square. You will be sure to have Giant dreams.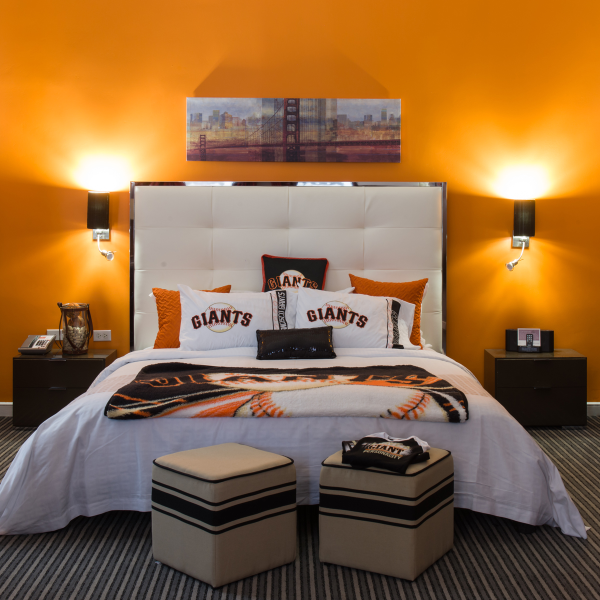 Whichever your choice may be, make sure you sport your orange and black on game days.
Lets play ball!