So what happens after you win Game 7, the rain stops and reality sets in?
First you celebrate. Then you get World Series ready. Lucky for the SF Giants, this is merely a GIANT case of deja vu. Remember 2010?
This blog will give you the ins and outs on: How to get World Series Ready.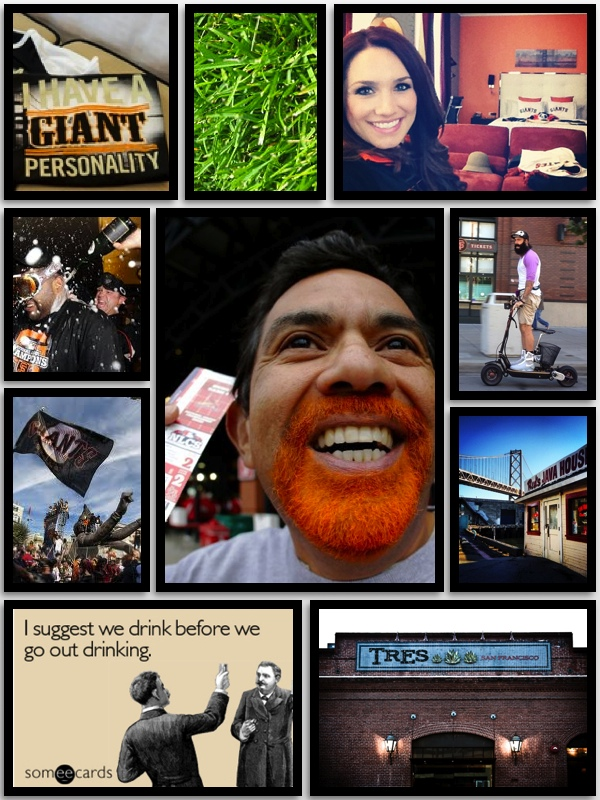 1. Get Tickets to the World Series in San Francisco.
This task is easier said than done. San Francisco Giants fans are willing to go to GIANT lengths to get their hands on World Series tickets. According to the Mercury News, "They're willing to go on hunger strikes, drive across the state or even paint your house to get into AT&T Park." Great idea! You could dye your beard like that guy. We aren't a 100% sure this would increase your chances but look how happy he looks!
*Didn't get tickets to the World Series? Then skip to Steps 4 & 5 and then repeat!
2. Find a Place to Stay in San Francisco.
We suggest staying at Hotel Union Square in the Dugout Suite. Our spacious corner suite features "Fear the Beard" window shades, a king size bed set up that you are sure to strike it rich in and a basket full of baseball treats with cracker jacks, peanuts, bubble gum & more.
This Suite is all things Orange & Black and is perfect for pre-game fun or to relax and keep the spirit going all night long! Plus transportation from Union Square to AT&T Park is a breeze with a special Metro Ballpark Service which operates on game days only, starting about 2 hours before games, at Embarcadero Station and continuing to the ballpark. These trains have their destination listed as "Mission Bay" or "Caltrain". Any train to Mission Bay, Caltrain or Sunnydale will take you to the ballpark.
3. Get Geared Up
Tickets. Check! Warm bed. Check! But what to wear?
You aren't World Series ready unless you are dressed to win. Forgot your SF Giants gear at home? Don't worry, Personality Hotels got your back, literally! Get a "Giant Personality" T-shirt from the front desk for $25.
Or if post-season gear is more your thing, check out the Dugout Store. To avoid crowds, we suggest going to the Giants Dugout store at Union Square on 337 Geary Street (next to Lefty O'Doul's).
4. To Pre-Game or Not to Pre-Game?
Pre-gaming can be defined as consuming alcohol in smaller amounts before a bigger drinking event with the intention of easing yourself into a night to remember or to forget depending on your drink of choice. This is where we strongly recommend that you refer to step 2 in this "How to Get World Series Ready" blog. Now you're game ready!
5. To the After Party and Beyond!
After the game, you'll want to keep the party going and everybody knows that SF Giants fans know how to party! But just in case you are a little rusty or you're new to the city, we have you covered. Want to feel like the MVP of your friends, then choose Tres Agaves, though we must warn you that they have every tequila option known to man and side effects may include table dancing, and an all night long desire to sing, "Don't Stop Believing" karaoke style!
Now that's How to Get World Series Ready!