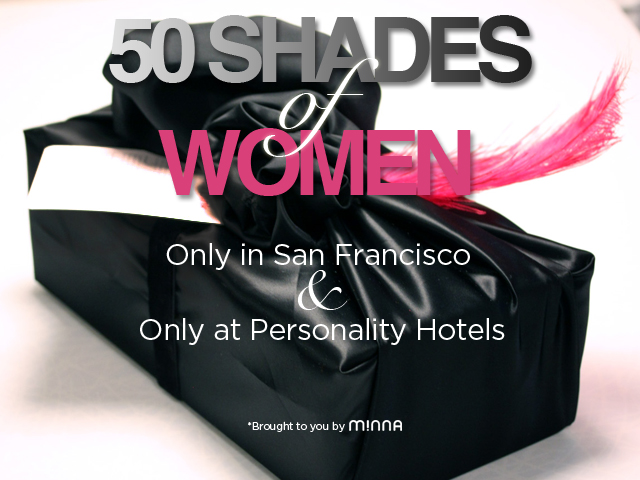 Got a special "Christian" or "Anastasia" in your life? Pondering a sensuous getaway in your own private pleasure suite? We've got what it takes to fire up that passion!
Inspired by the boundary-breaking best-seller, "Fifty Shades of Grey", we invite you and a partner to indulge in a sultry "Fifty Shades of Women" escape at the female-owned Personality Hotels, San Francisco's original boutique hotel company. Together, we've created a package of pure pleasure to enhance your luxurious stay
The "Fifty Shades of Women" experience includes deluxe accommodations in the heart of San Francisco's Union Square, at a choice of Hotel Diva, Hotel Union Square, or Kensington Park Hotel. Lead your partner into the room, and you'll find an exquisite intimacy kit custom-designed by Minna Life. Pull the pink feather, open the black satin wrapping, and the adventure begins.
The kit contains everything a diva needs to tickle her fancy:
An Ola vibrator (you're in control)
A bottle of Liquid Silk lubricant (added fun)
Limited edition designer condoms by Art of Lust (stimulate more than conversation)
A pom pom feather (not for dusting)
Sound intriguing? Get all the details by visiting Personality Hotels to find the perfect setting for your unique romantic escape.