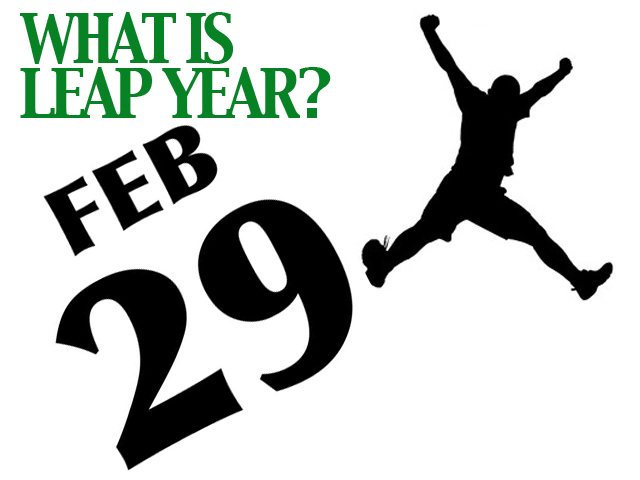 2012 is a leap year, with 366 days instead of the usual 365 days. Here are some fun things you may not have known about this special year.

Why Do We Have Leap Years?
It was the ancient Egyptians who first figured out that the solar year and the man-made calendar year didn't always match up. That's because it actually takes the Earth a little longer than a year to travel around the Sun — 365 days, 5 hours, 48 minutes, and 46 seconds, to be exact. Therefore, as the hours accumulated over the centuries, an extra day was occasionally added to the calendar and over time, the practice became more or less official.

The Romans first designated February 29 as leap day, but a more precise formula (still in use today) was adopted in the 16th century when the Gregorian calendar fine-tuned the calculations to include a leap day in years only divisible by four - 2012, 2016, 2020, 2024, etc.

Another stipulation ruled that no year divisible by 100 would have a leap year, except if it was divisible by 400. Thus, 1900 was not a leap year...but 2000 was!
Leap Year cocktail recipe
Invented at the Savoy Hotel in London on February 29, 1928 the Leap Year Cocktail was said to have spurred many a marriage proposal.

2 ounces gin
1/2 ounce Grand Marnier
1/2 ounce sweet vermouth
1/4 ounce fresh lemon juice

Stir and strain into a chilled cocktail glass. Serve with a twist of lemon.
Famous People Born on February 29
1976 - Ja Rule, rapper
1972 - Antonio Sabato Jr., model & actor
1916 - Dinah Shore, singer
1904 - Jimmy Dorsey, bandleader
1792 - Gioacchino Rossini, Italian opera composer

Leap Day Tradition - No Man is Safe!
The tradition of women romantically pursuing men in leap years began in 5th century Ireland when St. Bridget complained to St. Patrick about the fairer sex having to wait for men to propose. Patrick finally relented and set February 29 aside as the day women were allowed the right to ask for a man's hand in marriage.

The tradition continued in Scotland, when Queen Margaret declared in 1288 that on February 29 a woman had the right to pop the question to any man she fancied. Menfolk who refused were faced with a fine in the form of a kiss, a silk dress, or a pair of gloves given to the rejected lady fair.

Leap Year on Stage and Screen
Leap Day plays a pivotal role in the fictional The Pirates of Penzance, the most famous Gilbert & Sullivan comic opera that was translated to Broadway and the silver screen.

In the story, the hero Frederic realizes his apprenticeship binds him until his 21st birthday, but since his birthday falls on February 29, it means that technically he is only a young lad and won't reach his 21st birthday until he is in his eighties!

A Leap Year Poem
Thirty days hath September,
April, June and November;
All the rest have thirty-one
Save February, she alone
Hath eight days and a score
Til leap year gives her one day more
Thanks chiff.com for some great information!