Any San Francisco local feels the impact of the huge tech boom originating just south of and now within our city. The landscape, style, and local economy is changing and evolving into something completely different than before. Even the conversation is filled with new content and buzz words, with lingo like "cloud storage," "wearables," and "did you see that drone flying over the office the other day?" taking over the daily chatter. As techy as this city may be becoming, as resistant as some long term natives may be, our philosophy stands: embrace the change and celebrate the perks! So, in honor of the tech boom, we've come up with a list of our favorite (and some more fashionable) tech gadgets & apps present in our current culture or near to launching.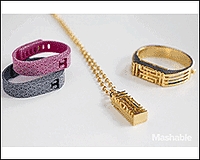 Ever notice those functional, yet not-so-fashionable, bracelet trackers everyone's wearing? It may help with nutrition, exercise, and sleep tracking, but it surely doesn't meet the style standards of today. Alas, a more fashionable version by Tory Burch. Available for pre-order now.
A gadget that power-saves, times appliances and electronic devices for automatic turn-off, and wakes everything up when you wake up (music, coffee maker, water heater, the works)! Talk about environmentally friendly. Pre-order available on their Kickstarter page.
3. Shyp
, stress-free packaging and shipping
Prepping and sending packages can be so time consuming and quite honestly, boring. Shyp is an app that allows you to forget all about the unwanted stress of sending a package and does the dirty work for you. Just snap a picture of what you want to send, where you want to send it, and Shyp will pick it up for you, wrap it, and send it off smoothly. Only in San Francisco, launching soon in NYC.
4.
Mighty
, the fully proofed portable speaker
While the Rebel Speaker they launched last year was only waterproof, this updated version is sand/dustproof and floatable! It also connects to your phone for easy calling to friends or talking to Siri. Mighty is still trying to get funded via Indiegogo, support here.

5. The USB cassette mix tape,
Milktape
Ever since tapes and CDs were replaced with MP3's, gone are the days of giving and receiving hard copy mixtapes. And let's face it, Spotify and Dropbox versions just aren't as sentimental. Milktape looks like a tape, comes white as a blank canvas (for DIY personalizing), and contains a USB adapter inside the tape for easy importing. Bound to be the next big thing in contemporary courting, watch their absolutely adorable launch video here.

6.
Frameri
, eyewear with interchangeable lenses
With more hours in the day spent looking at computer screens, it's no wonder everyone wears glasses. Otherwise, it's just a fashion statement that makes everyone look a little smarter, and indeed our generation is ;) Frameri currently has three styles with multiple colors to choose from. By buying three frames with one pair of lenses (also available with prescription and tinted), people can easily pop them in and out to match their unique day-to-day style. We highly recommend playing with their Virtual Try-On.
7.
Asana
, the ultimate project management tool
Coincidentally made by and for a San Francisco startup, this product offers seamless collaboration and optimal organization for new teams and their projects. Member profiles with lists of allocated tasks that is interactive by all people in the group make for quick managing and finishing of the little things.
8. Mobile Key, the keyless way to get through your door
Mobile Key makes for super easy access into your house, apartment, or hotel room. Convenient, minimal, green! Can you imagine a world without keys? We use them at Hotel Diva and Hotel Union Square.