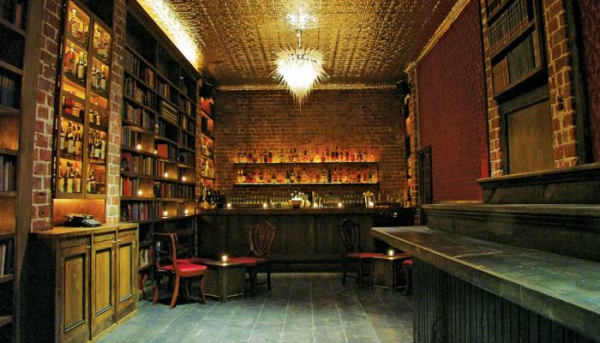 I didn't really embrace Union Square until I started working at Personality Hotels. Like most San Franciscans, my loyalty was rooted in own neighborhood - Nob Hill. But as soon as I started spending 5 days a week in Union Square, I had no choice but to embrace my surroundings.
I spent lunchtime wandering around the square, looking at the menus of nearby restaurants, and occasionally popping into H&M. (Shhh... don't tell my boss). It quickly became my 2nd neighborhood.
To be honest, the expertise I'm most comfortable sharing with you is my cocktail knowledge. Most girls spoil themselves with new shoes, I spoil myself with fancy cocktails. Everyone needs a drink after work, right?
So sit back, wait patiently, and watch your bartender create a work of art at one of my top 5 spots to enjoy an amazing well-crafted cocktail!
This sexy space is located underneath Market Street, literally. Inspired by the newspaper business of the 50s, you'll notice printing artifacts and century-old papers are everywhere. I love the heavy velvet drapes, sconce lighting and the retro jazz club feeling it exudes.
Straight out of the 1920s, Bourbon & Branch is the closest Prohibition experience we'll ever have. Just ring the buzzer and use the password "books". You'll be escorted to the secret speakeasy location with floor to ceiling bookcases and of course, superb cocktails.
3. Tradition
This is a true melting pot of traditional American bars of the ages. From Tiki to Dive Bar to Speakeasy to English Pub, Tradition is all about the evolution of drinking. I'm partial to the French 75 from the "Grand Hotel" menu.
Two favorites slightly outside of Union Square:
If you love a Manhattan as much as I do, this is the place to go. Plus you get to step back in time. Word has it that the saloon has served as a watering hole to San Franciscans since 1907, and it definitely embraces that history. Think bow ties and suspenders.
5. 1760
If you're exploring my lovely neighborhood of Nob Hill, the best cocktail can be found at 1760. It's a restaurant as well and the food never disappoints, but my regular visits are dedicated to my two favorite cocktails:
Blood Orange-Rosemary. blackstrap. absinthe. rye (pictured above)
Garam Masala-Cardamom. thyme. orange. toasted cardamom. bourbon
Written by Megan Brandt, Marketing Manager.
@megbrandt