We often wonder what Hotel Diva would say if those walls could talk. Well, now the writing is on the wall, literally. So what would Hotel Diva say? First of all, she prefers to write in cursive, unlike most of this world these days. Secondly, her vocabulary is slightly limited. Only because she prefers words that describe who she is. Typical Diva, right?
Hotel Diva loves design so she made sure to take a sophisticated approach while creating her handwritten masterpiece. A beautiful texturized grey wall covering filled with words like hot, sexy, confident, seductive, classy, add a dramatic look and feel to the 2nd floor hallway.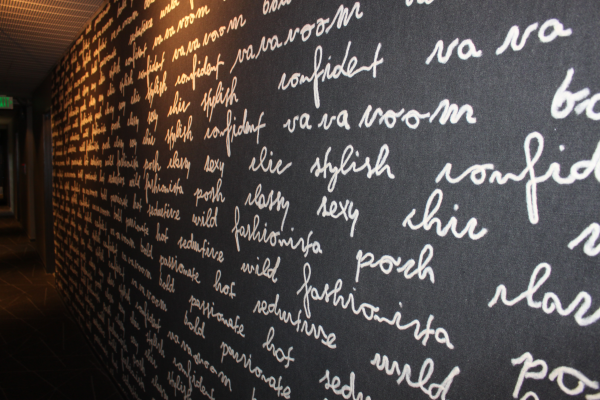 Okay, so maybe Hotel Diva didn't think of these words all by herself. Some very close sources in our corporate office disclosed her favorite words. They know her best, after all. And maybe Hotel Diva had some help designing this fabulous wall covering. Thanks to the talents of Liora Manne, Hotel Diva has found another way to express her style. A true Diva makes her presence known and this eye-catching statement is not to be missed!