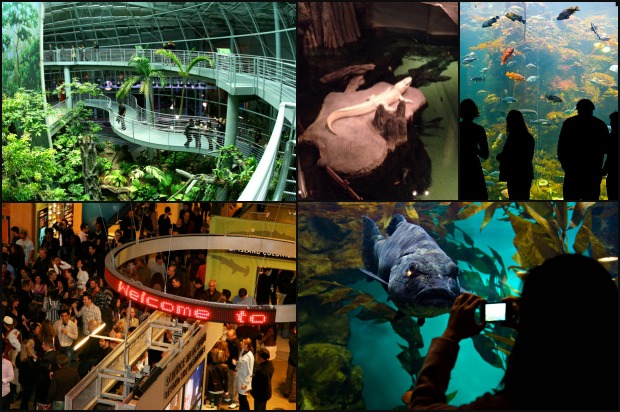 Last Thursday night I got to feel like a little kid again, but with big kid advantages. Full of excitement I attended my first-ever Nightlife event at California Academy of Sciences. With minimal expectations, I headed for Golden Gate Park to take part in 'Sharktoberfest'.
Every Thursday evening, the museum hosts an adult-only festivity influenced by a different environmental or scientific theme. And last week's theme happened to be Sharktoberfest. There was a live German band decked out in ledderhosen, Berlin-style ping pong, a pop-up beer garden, and great cocktails. I can't deny my love for cocktails so I went for the Farallon Collins - a delicious blend of vodka, fresh canteloupe, house-made ginger shrub, local honey and fresh mint. The night was off to a good start.
But cocktails aside, the real celebration of the evening was in honor of sharks. Here in Northern California during October local conservancy groups adopt the theme 'Sharktober' to raise awareness that sharks are endangered and the health of our ocean is suffering because of that.
In addition to shark education, all of the regular Cal Academy exhibitions were open for exploration, as they always are. With cocktail in hand, I came nose-to-nose with creatures at the aquariam, took a virtual safari through Africa in the natural history museum, and excited my senses in the all-too-real earthquake exhibit. Others journeyed through the stunning 4-story rain forest and others were entertained by digital imagery in the planetarium.
With food and drink options, live music, and tons of activities, Nightlife is the perfect way to spend a Thursday evening with friends. I left feeling happy and proud of the new things I learned. I didn't feel like I was being educated, it just naturally happened, in the most fun way possible.
INTERESTED IN VISITING CAL ACADEMY? Ask your front desk about discounted tickets.