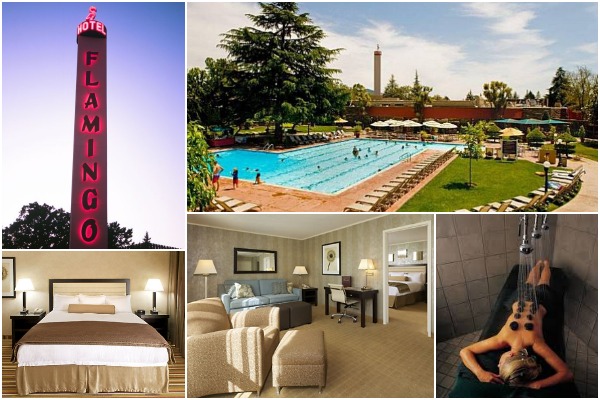 Picture this: You're basking in the summer sunshine, breathing in the fresh country-side air, and sipping some of the best wine in the world. Bold statement, we know, but we have to brag about the fact that wine country is basically San Francisco's backyard. And, at just about an hour north, Sonoma County is the closest place for a rejuvenating escape.
Now picture this: You're lounging poolside under the gentle Sonoma sun after your relaxing morning spent at the spa enjoying a warming ginger body scrub. The on-site tennis courts looked appealing, but hey, they'll still be there tomorrow. As will all the other amenities our Sonoma Personality Hotel offers.
A historic landmark put on the map in the 1950s, The Flamingo Resort and Spa delivers a classic charm while flaunting all the modern amenities after its recent renovation. And with its central location, Sonoma's endless recreational options are at your disposal and ready to be explored, especially since those warm summer days tend to last well into October.
From hiking in the redwoods to wine tasting in the vineyard-rich valleys, Sonoma offers something for everyone and The Flamingo can be your home away from home.
*Visit the Flamingo website to plan your next trip or reach the reservation desk at 1-
800-848-8300.