This coming week-end San Francisco will be celebrating Saint Patrick's Day with a wide variety of events and parties.
The Irish Spirit is visiting us: get ready for lots of green, lots of beer and lots of fun.
As it is well known Patrick is the Saint patron of Ireland, what you might not know is that he has been celebrated in Europe as early as the 9th and 10th century on March 17th. This day was made an official feast day in the 17th century, which meant you could break any lent rules you have and feast. At the beginning Saint Patrick's day was a commemoration of the arrival of Christianity in Ireland. Originally a religious celebration it as become a secular celebration and an essential part of Irish culture.
Even though St Patrick's Day is not a legal Holiday in the United States, it is widely celebrated across the country and of course San Francisco has a lot to offer on this week-end, here is a selection of what the city has in store for you:
Saint Patrick's Day Parade
What would be a festival without a joyful parade? This year the parade is scheduled on Saturday, March 16th, a day before Saint Patrick's Day.
Rain or shine it will start at 11:30 am, the parade route will begin at 2nd and Market and go all the way to Civic Center Plaza, next to the City Hall.
Proudly marching up Market Street will be numbers of groups from the Irish community; schools, cultural groups and of course the Police and Fire department of San Francisco.
This event is free to attend.

Saint Patrick's Day Irish Festival
If you want to learn a little more about Ireland's history and enjoy some traditional Irish music and dancing, this is the place.
The Festival will take place at the Joe Allioto Performing Art Plaza (south-east of the City Hall) from 11am to 5pm. Of course you are more than welcome to have a beer and try some Irish food while enjoying the moment. There will be exhibits for the whole family to enjoy, do not hesitate to go with the little ones. This year the festival will honor the Celtic women, one of them, this year's Grand Marshall: Joanne Hayes-White; SFFD Chief. If you want to avoid crowds, going in the morning is probably a safer option as more and more people are expected to come to celebrate as the day goes by.
This event is free to attend.
Saint Patty's Day Pub Crawl
A Saint Patrick's day celebration would not be complete without a little bar hoping, so for those more interested in beer tasting than in leprechaun hunting, get a ticket for the 3 Day Pub Crawl. They have events planned for you on the 15th, 16th and 17th of March. You can choose to only attend one day, or for the bravest get the full 3 day pass. Last year the event gathered more than 3000 people so there are a lot of chances that you will make friends and good memories.
3 simple rules: wear green, be 21+ to participate and Do Not Drive. If you are staying with us get in touch with our concierges, they will be more than happy to arrange transportation with our town car company, Delovely Limo.
Pricing Varies.
For those who just want a Beer
Of course Pub Crawling is not the only option out there, if you want to keep it simple, why not take a quick walk from any of our hotels and have a beer at John Foley's Irish Pub, located steps from Hotel Diva, Kensington Park and Hotel Union Square at 243 O'Farell St.
For those who just want to see Green
If you're not a beer fan and dont like large crowds, but still want to feel the green vibe, check out our Perrier Lounge at Hotel Diva.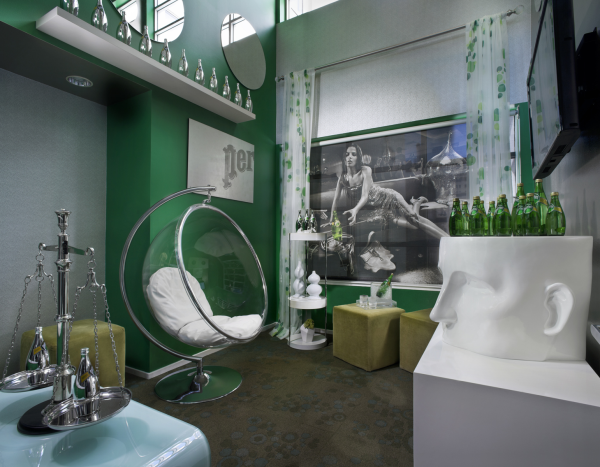 We wish you a lot of fun and as the Irish would say "

Bíodh deireadh seachtaine maith"*.
*Have a good week-end.