Packing for San Francisco should be unpacked into effortless STYLE. Because here, in SF, things just happen. Style drifts through the streets with ease and the day swirls through your mind with a chill in the sir, and a sun that warms the skin. Here are some ideas of what you can pack for San Francisco. SF Fashion: For her, and for him. The "For Her" items came from my closet, and can be mimicked easily, as they are staple items that can go from day to night.
Included are also some simple accessories that I can't live without & I am sure you will crave! For the men, I came up with a casual vibe that is effortless and can be transformed into night. Remember that these are ideas that can be mixed and matched, so channel YOUR STYLE, BE ORIGINAL, & MAKE IT YOUR OWN— SF Fashion.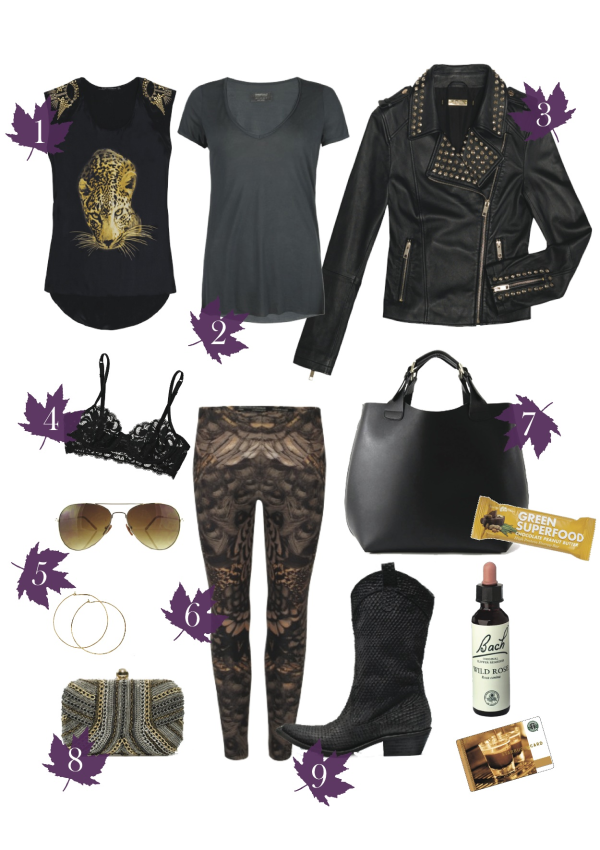 SF Fashion: FOR HER
Cheetah Shirt by ZARA. An amazing staple for nightlife & daytime adventures!
Basic charcoal grey V-Neck by All Saints. Less is more, so enjoy accessorizing this super-soft staple.
Leather is SO IN this season. I can never get enough. Add an edgy feel with some gold studs.
Always pack black lace! It speaks: classy, sexy, elegant, chic—in and out of the bedroom.
GOLDEN CHARMS: Gold-rimmed aviators, and super thin & airy gold hoops.
Paradise leggings by All Saints: recommended in tan if olive skinned (like me), or in Navy if fair skinned. You'll be complimented on every corner you turn.
Buffalo leather bag by ZARA, & a few of my favorite goodies, to keep you going throughout the day:
- Remember to bring a spacious shopping bag, as SF stores now charge 10 cents on bags, so save the do-re-mi and use your own!!
- The Green Superfood bar is an excellent on-the-go power snack. An all-natural power food with benefits for hair, skin, and body!
- Bach Flower Remedies are drops that come in all different natural essences with different functions. I recommend drops of "Heather" for relief of nervous tension.
- Your Starbucks Card, as there is one or more on every block here, no joke! Sip on a fall favorite drink to keep you energized and cozy when the fog rolls in!
8. Zipper Clutch by ZARA. Bring a nighttime clutch to explore the evening with free hands!
9.Black Snakeskin cowboy boots are perfect for day and night! Also the Prime choice for pumpkin-picking if you decide to take a ride over the bridge to the Sonoma or Napa countryside.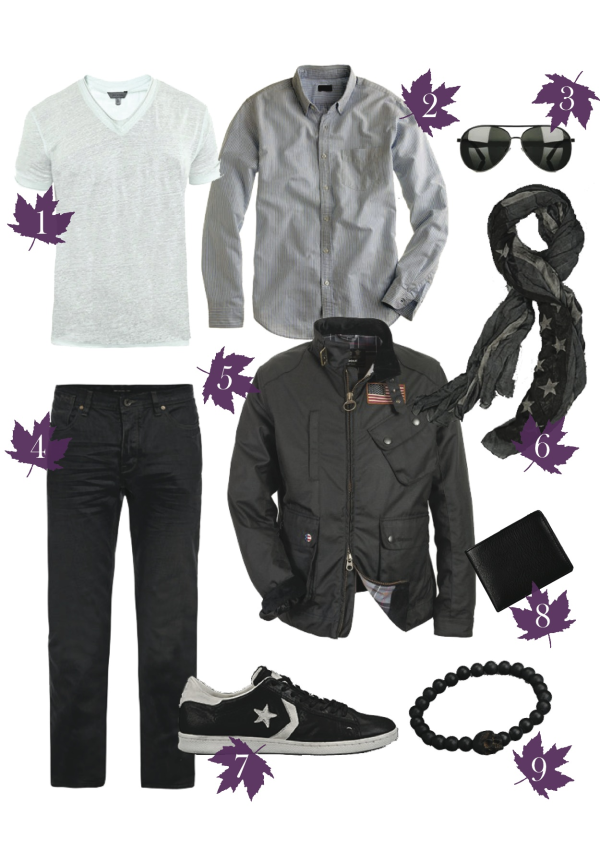 SF Fashion: FOR HIM
Crisp White V-Neck by John Varvatos, an amazing shop to stop in if you're on Union Square, that channels California Rock n' Roll and Americana.
Stone-washed Oxford shirt by J. Crew (J. Crizzle as I call it) – roll the sleeves up and hit the town!
Black-rimmed aviators – ideal if you're a couple: HE wears the black, SHE wears the gold!
Star USA jeans by John Varvatos … A dark and slightly distressed denim
Barbour Terrence Jacket, The Steve McQueen Collection—black with a waxy coating, makes it city slick, is equipped with a vertical wallet pocket, and an angled map pocket, great for traveling!
Stars & stripes scarf by John Varvatos, in charcoal, a subtle salute to the patriotic season we are in.
Pro Leather Oxford Lace-Up Converse-- the perfect pair of sneakers to walk the city streets in from morning to night.
The standby black leather wallet! Slips right into the pocket and holds everything a guy needs when he hits SF— ID, cash, CC, room key!
Matte Black Onyx Bracelet with Jet Skull— rugged & SCULLTACULAR!
Now that's what I call SF Fashion!